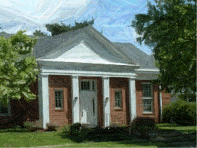 Hours: Monday - Friday
9:30 am - 6:30 pm
Saturday: 9:30 am - 2:30 pm

Inclement Weather Policy:
Beck Bookman Library will follow
the schedule of USD 336.

Print - Copy - FAX - Scan
Print/Copy


15¢ per page - 30¢ double sided
Color: 25¢ per page 50¢ double sided
30 sheets maximum
FAX
To Send: 50¢ per FAX
includes cover & confirmation page
To Receive: 15¢ per page
Scan
Free! Please ask staff for assistance.
MISSION STATEMENT
It is the mission of Beck Bookman Library to provide access to a world of literature and learning through a variety of media. The library seeks to serve a community of all ages and interests, creating a centralized resource center that meets the increasing need for information.
420 West 4th Street
Holton, Kansas 66436
A Few of our New Adult Books
​
Ready to Read:
​
Coben, Harlan
​
Hell in the Heartland: Murder, Meth, and the Case of
Two Missing Girls
Miller, Jax
​
American Predator: The Hunt for the Most
Meticulous Serial Killer of the 21st Century
Callahan, Maureen
​
Life in the Sloth Lane: Slow Down and Smell
the Hibiscus
Cooke, Lucy
​
Where Daffodils Bloom: Based on the True Story
of a WWII War Bride
Delray, Leya
​
The Crow's Call: Amish Greenhouse Mystery
Brunstetter, Wanda
​
The Mockinbird's Song: Amish Greenhouse Mystery
Brunstetter, Wanda
​
The Robin's Greeting: Amish Greenhouse Mystery
Brunstetter, Wanda
​
​
LARGE PRINT BOOKS:
The 1918 Spanish Flu Pandemic in America: A
Short History
West, Doug
​
Tombstone: The Earp Brothers, Doc Holiday, and
the Vendetta Ride from Hell
Clavin, Tom
​
​
​
​
​
​
Then She was Speechless
Calderon, Chana
​
Nowhere Near Goodbye
Conrey, Barbara
​
The Rose Code
Quinn, Kate
​
In Light of the Summit (The Rainier)
McGillen, Jamie
​
From Ashes
Marney, Ben
​
Buried Beneath the Boarding House: A Shocking
True Story of Deception, Exploitation and Murder
Green, Ryan
​
In Sight of the Mountain (The Rainier)
McGillen, Jamie
​
An Offer From a Gentleman
Quinn, Julia
​
Dark Sky
Box, C.J.
​
The Lost Manuscript: A Novel
Bonidan, Cathy
​
Long Range
Box, C.J.
​
The Sweet Taste of Muscadines
Terry, Pamela
​
Those Who Are Saved
Landau, Alexis
​
Exodus
Storm, Summer
​
Classic Slave Narratives 2
Brown, Bertrand
​
Daddy's Lil Girl
Summers, August
​
Maroon Land
Brown, Bertrand
​
Cold War Kansas
Brewer, Landry
​
​
​
​
​
​
All of our new titles may not appear on this list. If you have questions or suggestions, please feel free to call or email. I will attempt to update the list weekly, as time allows. 02/02/21