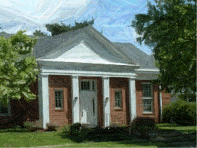 Hours: Monday - Friday
9:30 am - 6:30 pm
Saturday: 9:30 am - 2:30 pm

Inclement Weather Policy:
Beck Bookman Library will follow
the schedule of USD 336.

Print - Copy - FAX - Scan
Print/Copy


15¢ per page - 30¢ double sided
Color: 25¢ per page 50¢ double sided
30 sheets maximum
FAX
To Send: 50¢ per FAX
includes cover & confirmation page
To Receive: 15¢ per page
Scan
Free! Please ask staff for assistance.
MISSION STATEMENT
It is the mission of Beck Bookman Library to provide access to a world of literature and learning through a variety of media. The library seeks to serve a community of all ages and interests, creating a centralized resource center that meets the increasing need for information.
420 West 4th Street
Holton, Kansas 66436
I'm a paragraph. Click here to add your own text and edit me. It's easy.
​
​
Local Information:
​
Schools:
​
​
Resources for Veterans

Education:
​