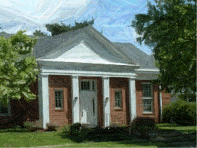 Hours: Monday - Friday
9:30 am - 6:30 pm
Saturday: 9:30 am - 2:30 pm

Inclement Weather Policy:
Beck Bookman Library will follow
the schedule of USD 336.

Print - Copy - FAX - Scan
Print/Copy


15¢ per page - 30¢ double sided
Color: 25¢ per page 50¢ double sided
30 sheets maximum
FAX
To Send: 50¢ per FAX
includes cover & confirmation page
To Receive: 15¢ per page
Scan
Free! Please ask staff for assistance.
MISSION STATEMENT
It is the mission of Beck Bookman Library to provide access to a world of literature and learning through a variety of media. The library seeks to serve a community of all ages and interests, creating a centralized resource center that meets the increasing need for information.
420 West 4th Street
Holton, Kansas 66436
The Book Club is a reader's discussion group that meets once a month from September through June. The meetings are organized and led by volunteers.
Discussions are held on the second Thursday of the month,
5:30 p.m. at via Zoom for the time being.
One book per month is selected. Readers become acquainted with a variety of books and authors. The book club gathers to discuss the story, other books written by the featured author and to learn more about the author.
The Book Club is for adults who love to read!
This is an informal and fun gathering. New members are welcome.
If you are interested in joining, contact the library for more information, 785-364-3532 or holtoncitylib@gmail.com.
Library Book Club Selections 2020 - 2021
September 10 – The Book Woman of Troublesome Creek by Kim Michele Richardson Reviewer– Orin and Lenora Marshall
October 8 - The Last Midwife by Sandra Dallas
Reviewer: Dana Bryant
November 12 - Born a Crime: Stories from a Southern African Childhood by Trevor Noah
Reviewer: Ginnie Schirmer

No Meeting in December
January 14 - Mrs. Sherlock Holmes: The True Story of New York City's Greatest
​ Female Detective and the 1917 Missing Girl Case that Captivated a Nation
by Brad Ricca Reviewer: Karen Bohlender
February 11 - All the Ways We Said Goodbye by Beatriz Williams, Lauren Willig, Karen White
Reviewer: Gail Schmitz
​
March 11 - Island of Sea Women by Lisa See
Reviewer: Susan Hershey
​
April 8 - This Tender Land by William Kent Krueger
Reviewer: Jolene Brauer
​
May 13 - American Dirt by Jeanine Cummins
Reviewer: Barb Schul
​
​
June 10 - City of Girls by Elizabeth Gilbert
Reviewer: Candee Jacobs
​
​
Also Reads -
Forty Autumns, Storm in a Teacup, Silent Patient, Finding Dorothy,
The Splendid and the Vile, I Rigoberta Menchu, The Night Olivia Fell, Three Days in January, 28 Summers, Educated, The Gown, Boom Town, A Better Man,
Alaska Sourdough: The Story of Slim Williams, Olive Again, A Fine Summer Day.