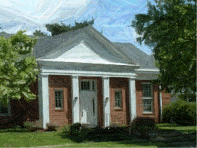 Hours: Monday - Friday
9:30 am - 6:30 pm
Saturday: 9:30 am - 2:30 pm

Inclement Weather Policy:
Beck Bookman Library will follow
the schedule of USD 336.

Print - Copy - FAX - Scan
Print/Copy


15¢ per page - 30¢ double sided
Color: 25¢ per page 50¢ double sided
30 sheets maximum
FAX
To Send: 50¢ per FAX
includes cover & confirmation page
To Receive: 15¢ per page
Scan
Free! Please ask staff for assistance.
MISSION STATEMENT
It is the mission of Beck Bookman Library to provide access to a world of literature and learning through a variety of media. The library seeks to serve a community of all ages and interests, creating a centralized resource center that meets the increasing need for information.
420 West 4th Street
Holton, Kansas 66436
The Book Club is a reader's discussion group that meets once a month from September through June. The meetings are organized and led by volunteers.
Discussions are held on the second Thursday of the month,
4:30-6 p.m.
One book per month is selected. Readers become acquainted with a variety of books and authors. The book club gathers to discuss the story, other books written by the featured author and to learn more about the author.
The Book Club is for adults who love to read!
This is an informal and fun gathering. New members are welcome.
If you are interested in joining, contact the library for more information, 785-364-3532 or holtoncitylib@gmail.com.
Library Book Club Selections 2022-2023
September 8 – The Reading List by Sara Nisha Adams Widower Mukesh lives a quiet life in the London Borough of Ealing after losing his beloved wife. He worries about his granddaughter, Priya, who hides in her room reading. Aleisha passes along a reading list she found in the library, hoping that it will be a lifeline for him too. Slowly, the shared books create a connection between two lonely souls, as fiction helps them escape their everyday troubles.
October 13 - Small World by Jonathan Evison
The characters connect in the most intriguing and meaningful ways, winning, breaking, and winning our hearts again. In exploring the passengers' lives and those of their ancestors more than a century before. Chronicling 170 years of American nation building from numerous points of view across place and time.
November 10 - Painted Drum by Louise Erdrich
While appraising the estate of a New Hampshire family descended from a North Dakota Indian agent, Faye Travers is startled to discover a rare moose skin and cedar drum fashioned long ago by an Ojibwe artisan. An illuminating journey both backward and forward in time begins.

No Meeting in December
January 12 - The Lincoln Highway by Amor Toles
Spanning just ten days and told from multiple points of view, readers will enjoy an array of imagined settings, characters, and themes. In June 1954, eighteen year old Watson is driven home to Nebraska by the warden of the juvenile work farm where he has just served fifteen months for involuntary manslaughter. The intention is to pick up his eight year old brother Billy and head to California. A different plan is hatched with Watson finds friends from work in the trunk of the car. .
February 9 - Sold on a Monday by Kristina McMorris
Children for sale. The sign is a last resort. It sits on a farmhouse porch in 1931.Inspired by an actual newspaper photograph that stunned the nation. Sold on a Monday is a powerful novel of love, redemption, and the unexpected paths that bring us home.
March 9 - Still Life by Louise Penny
The discovery of a dead body in the woods on Thanksgiving weekend brings Chief Inspector Armand Gamache and his colleagues from the Surete du Quebec to a small village in the Eastern Townships. A murder is hard to understand when it happens in a place so free from crime it doesn't even have it's own police force.
April 13 - Lessons in Chemistry
Set in America in the 50's and 60's, it tells the story of Elizabeth Zott, a woman like no one you've ever met. She is an unusual woman for the times; a female research chemist, an unmarried woman living with her partner and then a single mother.
May 11 - The Book of Lost Names by Kristin Hamel
Inspired by true stories form WWII, a young Jewish woman who flees Paris with her mother after the arrest of her father finds herself committing to a forgery ring whose primary goal is to create documents that will help hundreds of Jewish children flee the Nazis.
June 8 - The Thursday Night Murder Club by Richard Osman
In a peaceful retirement village, four unlikely friends meet weekly in the Jigsaw Room to discuss unsolved crimes: together they call themselves The Thursday Murder Club. They may be pushing eighty but they still have a few tricks up their sleeves. As the bodies begin to pile up, can our unorthodox but brilliant gang catch the killer, before it's too late?
Also Reads -
Rose Code, The Vanishing Half, Olympus, Texas, The Midnight Library, Tending Roses, A Spool of Blue Thread, The Extra Ordinary Life of Sam Hell