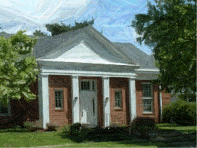 Hours: Monday - Friday
9:30 am - 6:30 pm
Saturday: 9:30 am - 2:30 pm

Inclement Weather Policy:
Beck Bookman Library will follow
the schedule of USD 336.

Print - Copy - FAX - Scan
Print/Copy


15¢ per page - 30¢ double sided
Color: 25¢ per page 50¢ double sided
30 sheets maximum
FAX
To Send: 50¢ per FAX
includes cover & confirmation page
To Receive: 15¢ per page
Scan
Free! Please ask staff for assistance.
MISSION STATEMENT
It is the mission of Beck Bookman Library to provide access to a world of literature and learning through a variety of media. The library seeks to serve a community of all ages and interests, creating a centralized resource center that meets the increasing need for information.
420 West 4th Street
Holton, Kansas 66436
I'm a paragraph. Click here to add your own text and edit me. It's easy.
The Book Club is a reader's discussion group that meets once a month from September through June. The meetings are organized and led by volunteers.
Discussions are held on the second Thursday of the month,
4:30-6 p.m.
One book per month is selected. Readers become acquainted with a variety of books and authors. The book club gathers to discuss the story, other books written by the featured author and to learn more about the author.
The Book Club is for adults who love to read!
This is an informal and fun gathering. New members are welcome.
If you are interested in joining, contact the library for more information, 785-364-3532 or holtoncitylib@gmail.com.
Library Book Club Selections 2023-2024

September 14 – The Last Green Valley by Mark T. Sullivan In late March, 1944, as Stalin's forces push into Ukraine, young Emil and Adeline Martel must make a terrible decision. Instead of waiting fir the Soviets bear intrusion, the two decide to run in retreat and search for their freedom.
October 12 - Dinners with Ruth by Nina Totenberg
is an extraordinary account of two women, Supreme Court Justice Ruth Bader Ginsberg and Journalist/Author Nina Totenberg who paved the way for future generations by tearing down professional and legal barriers. Story of joy and the true meaning of friendship.
November 9 - A Secret, Book and Scone Society by Ellery Adams
is set with a quirky small town club where the key to happiness, friendship or solving a murder - can be found within the pages of the right book. Miracle Springs is a place of healing where strangers visit the natural hot springs,to cure their ills. Some also find Miracle Books, where owner Nora Pennington listens to their stories and prescribes the perfect novel to ease the pain and burden. Nora forms a group of damaged souls who earn redemption by helping others.

No Meeting in December
January 11 - The Downstairs Girl by Stacey Lee
is the story of JoKuan who by day works as a lady's maid for the cruel daughter of awealthy man in Atlanta. At night, Jo moonlights as the pseudonymous author of a newspaper advice column fo rhte genteel Sountern lady, "Dear Miss Sweetie." While her opponents try to uncover her secret identity, a mysterious letter sets off a search for her own past and the parents who abandoned her as a baby.
February 8 - Brain on Fire by Susannah Cahalan
Is the account of one woman's struggle to recapture her identity. When Susannah Cahalan wakes up alone in a hospital room, she has no memory of how she got there. The author tells the true story of her life saving diagnosis that almost didn't happen. This is an unforgettable exploration of memory, identity, faith and love.
March 14 - A Dog's Purpose by W. Bruce Cameron
Is the story of reincarnation; a dog that lives several lives that involve being a stray, being neglected, being loved, living in a pound, and being a working dog. The novel is unique in that it is narrated by a a dog. In the end, the dog recognizes his purpose is to be a good companion and protect, find, and love the humans that enter his life.
April 11 - House is on Fire by Rachel Beanland
Follows four characters through a disastrous fire and its aftermath. In December 1811, 600 people were crowded into Virginia's Richmond Theater for a performance when teenage stagehand Jack Gibson forgets to snuff the candles on the stage chandelier but obeys an order to raise it into the rafters, where it ignites a backdrop and then the building. Sally Henry Campbell, a genteel widow attending the play and Gilbert Hunt, an enslaved blacksmith who runs to the scene to help, are among those who try to rescue theatergoers. Cecily Patterson, a young slave, takes advantage of the situation and tries to run away.
May 9 - Still Life by Louise Penny
introduces Monsieur L'Inspecteur Armand Gamache of the Surete du Quebec, a modern Poirot who anchors this mystery series. Gamache and his team of investigators are called in to the scene of a suspicious death in a rural village south of Montreal.
June 8 - Heirlooms by Sandra Byrd
Set in both modern-day and mid century Whidbey Island, Washington, this dual-narrative story of four women - grandmothers and granddaughters-intertwines across generations to explore the secrets we keep, the love we pass down, and the heirlooms we inherit from a well-lived life.
Also Reads - The Last Widow by Karen Slaughter, Remarkable Bright Creatures by Shelby Van Pelt, Thirst by KL Barron , Only Woman in the Room by Marie Benedice, The Light We Carry by Michelle Obama, Pony by RJ Palacio, Bridge of Scarlet Leaves by Kristina McMorris, Some Danger Involved by Will Thomas, Wine Makers Wife by Kristan Hamel, The Alienist by Caleb Carr, Covenant of Water by Abraham Verghese, Kew Garden Girls by Posy Lovell
Everyone is welcome to join!!