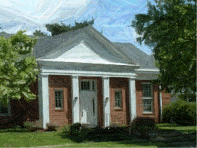 Hours: Monday - Friday
9:30 am - 6:30 pm
Saturday: 9:30 am - 2:30 pm

Inclement Weather Policy:
Beck Bookman Library will follow
the schedule of USD 336.

Print - Copy - FAX - Scan
Print/Copy


15¢ per page - 30¢ double sided
Color: 25¢ per page 50¢ double sided
30 sheets maximum
FAX
To Send: 50¢ per FAX
includes cover & confirmation page
To Receive: 15¢ per page
Scan
Free! Please ask staff for assistance.
MISSION STATEMENT
It is the mission of Beck Bookman Library to provide access to a world of literature and learning through a variety of media. The library seeks to serve a community of all ages and interests, creating a centralized resource center that meets the increasing need for information.
420 West 4th Street
Holton, Kansas 66436
AVAILABLE MATERIALS​
Novels - Mystery - Science Fiction - Inspirational
Western - Romance Paperbacks - Large Print Young Adult - Children
Junior Fiction- Nonfiction Reference - Inter Library Loans
​
Audios - Books on CD

Music on CD
​
Movies for all

Magazines - Newspapers
​
Kansas Collection - History Genealogy - Reference - Fiction
​
Technology Services
Public computers Print - Scan
Laptop - Tablet - Hotspots-
Wi-fi -Universal Card Reader

Meeting Room - Study Areas
Scanning - Printing - Faxing - Copying - Helpful Staff
Public Computers and the Internet
The Computer & Internet Safety Policy of Beck Bookman Library will be followed.
​
Patrons are given 60 minutes on a computer and must log out before leaving.
​
USB drives are available at the front desk for sale.
​
Parental permission is required for use of library Internet computers by children.
​
For children12 and under, a parent must be in the library with the child at the time of Internet use.
LIBRARY CARDS
Juveniles 7-17 years old must fill out a juvenile application form with a parent or guardian with identification.
​
Adults must fill out an adult application and provide identification.
​
Adults without a card may use public access computers by checking in as a "guest" at the circulation desk.

Library patrons and guests will abide by the Computer & Internet Use Policy of the Beck Bookman Library.
​
Patrons may check out books, audios and periodicals for a period of 14 days.
​
Materials may be renewed by contacting the library.
​
In the event of lost or damaged materials the patron will be charged the replacement cost.
​
Movies
Adults may check out 5 movies for 5 days per card.
​
The fine on overdue movies is $1.00 per movie per day.
​
Hot Spots
Adults may check out a hot spot for 5 days. The fine for an overdue hot spot is $5.00 per day. Hot spots must be returned inside, during open hours.
​