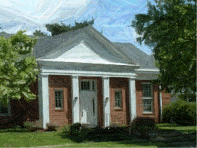 Hours: Monday - Friday
9:30 am - 6:30 pm
Saturday: 9:30 am - 2:30 pm

Inclement Weather Policy:
Beck Bookman Library will follow
the schedule of USD 336.

Print - Copy - FAX - Scan
Print/Copy


15¢ per page - 30¢ double sided
Color: 25¢ per page 50¢ double sided
30 sheets maximum
FAX
To Send: 50¢ per FAX
includes cover & confirmation page
To Receive: 15¢ per page
Scan
Free! Please ask staff for assistance.
MISSION STATEMENT
It is the mission of Beck Bookman Library to provide access to a world of literature and learning through a variety of media. The library seeks to serve a community of all ages and interests, creating a centralized resource center that meets the increasing need for information.
420 West 4th Street
Holton, Kansas 66436
Library Staff
Amy Austin, Director
Susan Schirmer, Library Assistant
Jillian Mandala, Library Assistant
Mary Young, Library Assistant

Board of Trustees:
Sandra Morris: President
Dawn Shupe: Vice-President
Mark Will: Treasurer
Jenny Lancaster: Secretary
Judy Olson
Joyce Immenschuh
Bob Dieckmann, Mayor

Monthly Board Meetings:
Third Tuesday every month
6:00 p.m. at the library.