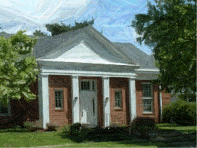 Hours: Monday - Friday
9:30 am - 6:30 pm
Saturday: 9:30 am - 2:30 pm

Inclement Weather Policy:
Beck Bookman Library will follow
the schedule of USD 336.

Print - Copy - FAX - Scan
Print/Copy


15¢ per page - 30¢ double sided
Color: 25¢ per page 50¢ double sided
30 sheets maximum
FAX
To Send: 50¢ per FAX
includes cover & confirmation page
To Receive: 15¢ per page
Scan
Free! Please ask staff for assistance.
MISSION STATEMENT
It is the mission of Beck Bookman Library to provide access to a world of literature and learning through a variety of media. The library seeks to serve a community of all ages and interests, creating a centralized resource center that meets the increasing need for information.
420 West 4th Street
Holton, Kansas 66436
Browse and Download Free Ebooks! https://dp.la/
Digital Public Library of America's new web catalog allows anyone to browse and directly download any of the more than 6,300 ebook titles available on DPLA's Open Bookshelf.
Summer Reading is a program for all ages!
Unfortunately, all programs have been cancelled this summer.
See online resources to enjoy a summer reading experience at home
​
Under normal circumstances the summer reading experience includes:

Summer Presentations on Tuesdays at 1:30 pm for students who have completed 1st through 5th grade. Performers of Music, Magic, Dancing and Science will come to the library to entertain and teach us about the world around us.
Story Time

on

Wednesdays

is geared for children who are

ages 3-6


and provides 45 minutes of fun and learning. An adult must accompany

children who attend the program.
Rhyme Time on Thursdays for babies - 3 year olds to sing songs, explore rhymes and finger-plays & stories.

No prior registration needed for any of the events.