Please check the library Facebook page for event updates.
Order library materials here!
Beck Bookman Library will accept return of materials starting June 1st!
Curbside service to start June 15th!
Returning Materials starting June 1st:
Place books in the book drop DVDs and Audio-books in the Audio-Visual box.

Please be cognizant of the weather and not allow any items to get wet as they will be staying in a bag for 72 hours before being processed; even a few sprinkles can cause damage.

Returning a HotSpot device: knock on the door to present it to a staff member.

We ask that all materials be returned by June 18th.

Please do not drop off donations of books, movies, magazines, etc.
​
Curbside Service starting June 15:
Order materials from nextkansas.org
click on this tutorial, to walk through the ordering process or
call the library at 364-3532 or send an email to holtoncitylib@gmail.com.

When materials are available, notifications will be sent in the manner noted on the patron's account: email, text or by phone.

Requests will be put in a queue and items will be distributed accordingly.

Only items in the Beck Bookman Library collection are available to order at this time.

Sorry, no board books will be available for check out.
​
Fax, Copying and Printing:
Fax, copying and printing will be available via curb side by appointment only.

Each fax is $1.00 to send, prices vary to receive.

Printing costs: 15 cents per page for black and white; 25 cents for each color page with a limit of 20 pages; cash or check only.
​
Hours of operation starting June 15th:
Monday - Friday: 9:30am to 5pm; Wednesday open until 6:30pm.
Library services will proceed in this manner until further notice.
Beck Bookman Library staff and board of trustees thank everyone for their continued support and patience. Once again, we are reminded of the great community that surrounds us in Jackson County.

Amy Austin,
Beck Bookman Library Director 5/28/2020
Beck Bookman Library Board Member Needed:
​
Must live within Holton city limits.

Four-year term.

Board meetings every third Tuesday.
Send inquiries to dirholtoncitylib@gmail.com
​
Beck Bookman Library Board of Trustees:
will not meet in the month of May 2020.
Browse and Download Free Ebooks! https://dp.la/
Digital Public Library of America's new web catalog allows anyone to browse and directly download any of the more than 6,300 ebook titles available on DPLA's Open Bookshelf.
All programs have been cancelled until further notice.
See online resources to enjoy a summer reading experience at home: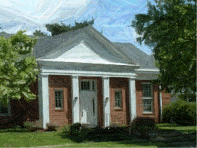 Regular Hours:
Monday - Friday
9:30 am - 6:30 pm
Saturday: 9:30 am - 2:30 pm
Closed on National Holidays

Inclement Weather Policy:
Beck Bookman Library will follow
the schedule of USD 336.
Print - Copy - FAX - Scan
Print/Copy


15¢ per page - 30¢ double sided
Color: 25¢ per page 50¢ double sided
20 sheets maximum
FAX
To Send: 50¢ per FAX
includes cover & confirmation page
To Receive: 15¢ per page
Scan
Free! Please ask staff for assistance.
MISSION STATEMENT
It is the mission of Beck Bookman Library to provide access to a world of literature and learning through a variety of media. The library seeks to serve a community of all ages and interests, creating a centralized resource center that meets the increasing need for information.
"Books. Cats. Life is good."
T. S. Elliot
Beck Bookman Library
420 West 4th Street
Holton, Kansas 66436