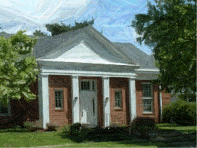 Hours: Monday - Friday
9:30 am - 6:30 pm
Saturday: 9:30 am - 2:30 pm

Inclement Weather Policy:
Beck Bookman Library will follow
the schedule of USD 336.

Print - Copy - FAX - Scan
Print/Copy


15¢ per page - 30¢ double sided
Color: 25¢ per page 50¢ double sided
30 sheets maximum
FAX
To Send: 50¢ per FAX
includes cover & confirmation page
To Receive: 15¢ per page
Scan
Free! Please ask staff for assistance.
MISSION STATEMENT
It is the mission of Beck Bookman Library to provide access to a world of literature and learning through a variety of media. The library seeks to serve a community of all ages and interests, creating a centralized resource center that meets the increasing need for information.
420 West 4th Street
Holton, Kansas 66436
Technology on-the-go!
Beck Bookman Library offers portable wifi hotspots, tablets and a Chromebook for check out! Restrictions apply.
Contact the library for more information:
785-364-3532, holtoncitylib@gmail.com
​

Lightweight V-neck & round neck t-shirts (long and short sleeved)
Lightweight hoodies

, Baseball 3/4 length sleeve shirts
Short-sleeve t-shirts in a variety of colors.
Youth t-shirts: $10
Adult t-shirts : $15
Lightweight hoodies: $20
Hooded and crewneck sweatshirts: $25
Hooded jackets: $25
​
WiFi to Go:
Get online anywhere, anytime with a T-Mobile Wifi Hotspot
from Beck Bookman Library!
What is a Mobile Hotspot? A mobile hotspot is a portable Wi-Fi device that allows you to carry a portable internet source with you whereveryou go. With a mobile hotspot, you will have wireless internet
access in your car, at home or anywhere else.

Checkout policy: Hotspots may be checked out
for 5 days. Available to adults with a current library
card and ID verification. Hotspots must be returned
to the circulation desk, not in the library drop boxes.

Fines & Fees: $5 per day; replacement cost $100.